New to Washington Community Church and don't know what to expect?
We're so glad you're here! We hope this is a place where you will encounter the presence of God, discover your unique purpose and find a community that feels like family.
You might be wondering, though, what's it really like at Washington Community Church.
Simply stated, at WCC, we're all about Jesus. You won't be met with shame, guilt, or condemnation.
And we don't care how you're dressed or what candidate you voted for.
Our church is made up of imperfect people with every kind of story imaginable.
Want to know the best part?
No matter what you've been through or what questions you might have about God and faith,
our church is a place where you'll find the love, grace, and forgiveness Jesus gives to everyone.
Where and When?
WCC meets every Sunday both in-person and online.
You can check us out in-person, at:
Mount Vernon High School -
door 4 at 10:00am
8515 Old Mt Vernon Rd, Alexandria, VA 22309
You can check us out here, on the website that you're already on - just click the card below!
You could also check out our Facebook or Instagram.
Or you can watch our live stream's here at 10:00 AM!
What About My Kids?
Kids and families are a huge part of WCC - and that's why we want to make sure your kids are well taken care of!
We believe that kids should have a blast at church every single week - and at WCC Kids, we make this a priority. The other thing we make a priority is your children's safety. Because of that, we have a detailed check-in process for our WCC Kids program the first time that you visit. You'll want to leave yourself an extra ten minutes to get signed in for the WCC Kids experience. WCC Kids is offered at every service for kids (infant through Grade 5).
Youth
If your kids are a little older than 5th grade on Sundays, they will have to sit in church with you. However, we have a youth program on Friday nights from 7:00 -9:00 PM!
Let's Start with the basics
We know that meeting someone for the first time can be intimidating - and going to a new church can be nerve-racking. We want to help make your first experience at Washington Community Church legendary.
SERVICE TIMES
Washington Community Church meets every weekend: both in-person and through live stream.
10:00 AM in-person and live stream
https://washingtoncommunity.online.church/
LOCATION & DIRECTIONS
We meet at:
Mount Vernon High-School
Door 4
8515 Old Mt Vernon Rd, Alexandria, VA 22309
Is parking a hassle?
Parking can be the worst, but luckily that's not the case here. There is plenty of parking right up front of the building so you don't even have to think about it.
(just make sure you walk into the right door... but don't worry we have a bunch of signs & people you can't miss)
I've parked, now what?
Now that you're actually in the parking lot and sitting in your car confronting all your fears about walking into a new church, you just have to walk through the doors because (not to brag) we're pretty cool people. Once you're in the building you'll be greeted by happy people and guided to your seats, so you don't have to worry about fighting people for seats!
Do I need to dress up or bring anything?
Not at all, we are a casual dress church. You can dress up if you like of course, but the norm is casual.
While some people bring Bibles or notepads (or both), you can also just use the bible app.
What does the atmosphere and community look like?
Sunday's at WCC are friendly, casual, and relaxed. Come as you are, don't worry about what to wear, and expect to feel welcomed as our guest. We are a multi-generational and multi-ethnic church that loves people. We are probably going to be some of the most friendly people you'll meet, but we also know when to let you sit in peace (you're welcome introverts). We love to talk, hangout, and be a community so there's room for everyone no matter what you look like or how old you are.
I'm in the auditorium now what?
Now that you're sitting waiting for service to start, feel free to talk to someone (if no one has already started talking to you), go to the bathroom (which are located in the hallway you walked through), or just nestle in and get ready.
In total, a Washington Community Church service is about 60 minutes in length. Services begin with the Washington Community Church band leading the church in music (worship) - with song lyrics projected onto the screens so that you can sing along and/or engage with worship however you feel most comfortable. After the music portion of service, one of our pastors will come out to share an encouraging and practical message for everyday living.
Worship
If you don't know what worship is: in a service, it's basically us singing to God for about 20 minutes give or take. Some people really get into it, some people are pretty chill about it - it's all about your relationship with God. Don't feel pressured to join in, you can just soak it up. But if you want to try some basic worship "moves", look to the chart below. Just know we like it loud and rumbling your kidneys (in a non-damaging way of course...). If you're a numbers person, we like the worship to be between 85-90db, and speaking between 60-75db. If you're not a numbers person, Here is an informative ear picture.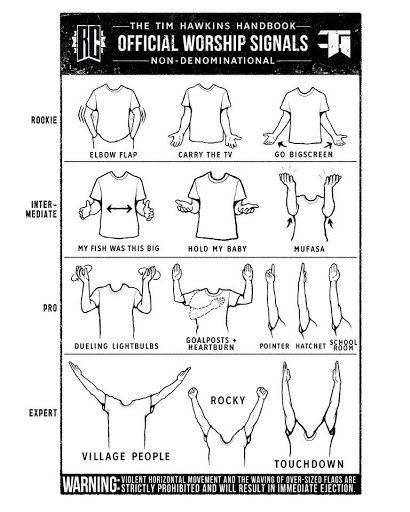 What kind of Bible are you preaching?
If you've been in church enough (or not at all but have seen any kind of movies about churches), you'll know they can be pretty different in what you're hearing and seeing.
If you have never been in or to a church before, we are not a bunch of crazy people (we promise). We read the Bible (and only the Bible) and believe and study it's words. Which means anything you hear us speak or preach is based on the Bible and the years of study that come with being a pastor.
If you have been to church or just want a more church-worded version
We are a Non-Denominational church that believes in preaching and believing the whole Bible.
We believe the Bible is the inspired word of God and is the final authority in life and doctrine.
We believe God is a Triune God, Father, Son, and Holy Spirit
We believe in the death and resurrection of Jesus Christ
We believe that Jesus is the way, the truth, and the life and no one can come to God except through Him
We believe in the present ministry of the Holy Spirit
And we believe as Christians in the "Missio Dei" and that we are commissioned by Christ to share the gospel
If you want a feel for what our services are like, feel free to go ahead and check out our services below! These are live streamed each Sunday - both for people who can't get out of their houses, or are simply away that Sunday.
What about after church and during the week?
After church feel free to hang out and get to know people, chat with the pastor, or even the audio team (they don't get a lot of attention so it would be nice if someone checked in on them). We like having coffee and snacks afterwards and just hanging out, of course, if you have places to be and things to do then no worries. You can leave as soon as the service is done!
We also have things happening during the week Like connect groups, Wednesday night Bible study, or outreaches. It depends from time to time as things tend to be seasonal or it's a one-off serve day. Check out the card below to keep up with what's happening mid-week in church life.
Also, not to brag, but we did so much that Fairfax County said that we're pretty cool people.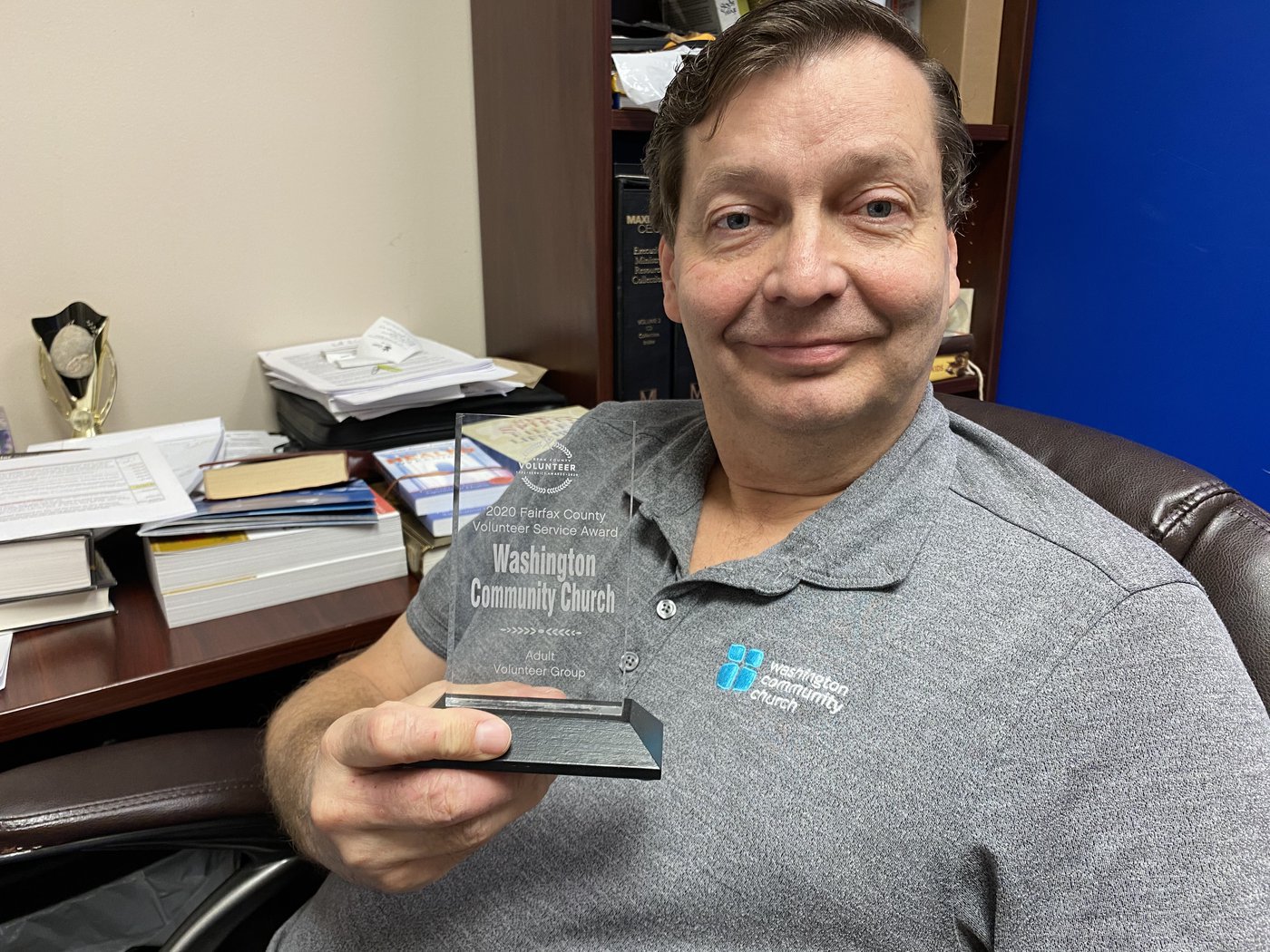 If you can't read it (apparently grey on grey on glass is hard to read), it says:
"2020 Fairfax County Volunteer Service Award"
For Washington Community Church
(again not bragging, we promise)
Want to Come? Let Us Know You're Coming!
Ready to check out WCC in person? We can't wait to meet you! Simply fill out the form below and we'll make sure to give you the VIP treatment upon your first visit.